BY: SUNANDA DASA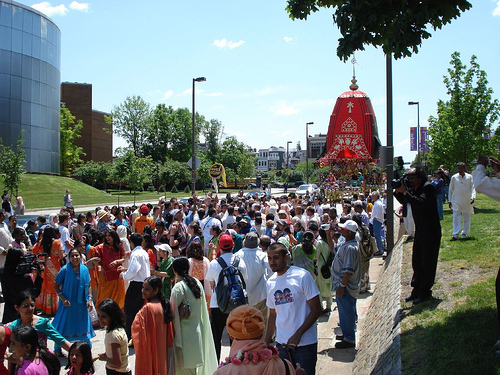 May 29, BALTIMORE, MARYLAND (SUN) — This year marks the Fifth Annual Rathayatra in Baltimore, Maryland, U.S.A.. However, the special significance of this years' festival is that Baltimore Mayor, Sheila Dixon, officially proclaimed this day, May 19th, Rathayatra Day. The Proclamation reads, in part, as follows:
WHEAREAS, this day is sponsored by the International Society for Krishna Consciousness, a non-profit organization that promotes the well-being of human society by teaching spiritual principles and values, and is expected to draw several thousand people and be a day of fun and education for the entire family.
NOW, THEREFORE, I, SHEILA DIXON, MAYOR OF THE CITY OF BALTIMORE, do hereby proclaim May nineteenth as "HARE KRISHNA CHARIOT PARADE & FESTIVAL OF INDIA DAY" IN BALTIMORE, and do urge all citizens to join in this celebration. IN WITNESS WHEREOF, I have hereunto set the Great Seal of the City of Baltimore to be affixed this nineteenth day of May, two thousand seven.

The festival actually began two weeks prior at Lord Jagannatha's Snana Yatra (bathing ceremony) at the Baltimore temple, attended by over 150 devotees from throughout the area eager to bathe Their Lordships. Following the deities' bathing pastime, They go into Their two week period of seclusion known as Anavasara Kala.

Then, on Saturday, May 19th, the deities came out of seclusion and were escorted to Their Rathayatra chariot at Baltimore's famous Inner Harbor where They were greeted by devotees blissfully chanting the maha mantra. By 12:30pm hundreds of devotees from as far as New York, Philadelphia, New Jersey, Virginia and North Carolina had arrived and began to pull the 30' tall Rathayatra cart. "King Prataparudra" swept the way before the cart, and rosewater and flower petals were strewn about. Devotees danced jubilantly to the beat of expert mrdanga and karatal players, as Their Lordships glanced lovingly in all directions bestowing Their mercy on all souls. Participants pulling the Lords' chariot enthusiastically chanted, "Haribol, Haribol".

For 1 Ѕ hours the transcendental procession continued, gathering more and more devotees along the way. Onlookers gazed with amazement at the spectacle and even the police officers escorting the cart appeared to have attained their eternal svarupa. Finally arriving at Their festival site, the deities were carried to Their altar for darshan and pujas throughout the afternoon.

At this time, verbal presentations and Citations of Appreciation were offered to ISKCON of Baltimore by a delegation of representatives from the Indian Embassys' office, the Governors' office, two State Senators' offices, two Delegates' offices and the Baltimore County Councils' office, beginning with the reading of the Mayors' Rathayatra Day Proclamation. Hundreds of devotees and participants were amazed at the praises being extended to ISKCON. Senator Ben Cardins' representative, Reverend Jerome Stephens, so enthusiastically chanted Hare Krishna three times both before and after his reading, that he was almost induced to lead the kirtan afterwards.

Following the introductory presentations, the afternoon was filled with transcendental dramas, dance performances, and ecstatic kirtans and bajans led by various devotees. During the course of the day over 2500 plates of Jagannatha prasadam and hundreds of Srila Prabhupada's books were distributed. Participants and passersby got an opportunity to view the various Festival of India exhibits on Srila Prabhupada, Bhagavad Gita, Reincarnation, Vegetarianism, and India Another World, and receive information about ISKCONs' Food For Life, Cow Protection, and Bhaktivedanta Hospital programs.
All were inundated with the waves of Sri Caitanya Mahaprabhus' sankirtan movement and experienced, if only for a brief moment, the true nature of love of Godhead.

JAYA JAGANNATHA!
Rathayatra Makes Devotees

By Ian SomervilleSubmitted by Sunanda das, Baltimore ISKCON
Hello, my name is Ian Somerville. I am a devoted young man in search of true enlightenment. Throughout the course of my life I have personally studied and practiced many world religions. But the one that ignited that withered flame was Krishna consciousness.

During my spiritual journey I have read many religious texts, but none can compare to the Bhagavad Gita. This book is not a Shakesperean playwright or a book of dreamy poetry, but a book in which Krishna, the supreme being, god of all gods, truly shows us how we can gain a life of spiritual perfection. Within the boundaries he has set in place for us He shows how to separate our material and spiritual worlds. Without a spiritual world, there can be no material world.

Let me give you a brief tour into a recent miraculous event that occurred for me. Recently, I had checked out a copy of Bhagavad Gita from the library. Following that I prayed "God, please give me a sign that this is the path I should pursue". Two days later I happened to be walking down the Baltimore Inner Harbor and as I turned around I saw a sign that read, "Festival of India". So I walked to the event, turned around, and before my two eyes I saw the sign, "Bhagavad Gita"! My prayers were answered almost immediately.
Everyone who has grown up has to find an identity, not only that but a personal faith. May Krishna bless all.

Don't ever forget to chant:
Hare Krishna Hare Krishna Krishna Krishna Hare HareHare Rama Hare Rama Rama Rama Hare Hare
Source ...
Sampradaya Sun